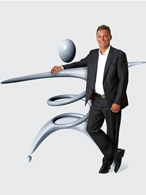 About Us
LoadSpring™ was founded in 1999 and quickly advanced to become the market leader in providing Cloud-based Project Management solutions for enterprise customers. This rapid trajectory occurred because we understand the challenges enterprises face when deploying and implementing today's sophisticated Project software solutions. In response, LoadSpring created a proprietary technology, our SpringBoard™ cloud portal, which enables customers to maximize their software and project ROI.
View our Corporate Overview here.
Our Mission
LoadSpring's Mission is to continually invest in and create innovative solutions that maintain our leadership position as a Project Management Cloud solutions company, as well as increasing our competitive advantage around fast and easy solutions by creating the following for our customers and team members:
Legendary Customer Experience
Legendary Employee Experience
Legendary Support, Uptime, and Performance
Legendary Infrastructure
All resulting in a Legendary Corporate Value
Industries Served


Our Customer Focus
Our unique platform and solution was created to provide specific advantages for our customers:
Ensure fast deployment and implementation for customers to improve their software "time to value"
Provide an intuitive and easy to use platform from which project teams can securely access their perfect suite of project applications with one single sign-on
Support global users via a single support system throughout their entire project plan regardless of the applications they use
Develop tools to enable the growing mobile needs of our customers
Enable on the spot training via our LoadSpring Academy
Create dashboards that meet the data requirements from the executive suite to on-site contractors
And, lets talk about security.  Security has been an integral component of our DNA since 1999, and we continue to execute the highest standards in cloud security.
LoadSpring Stats
Offices in:                                   Boston, MA; Carlsbad, CA; London, UK
Projects:                                     3,000 companies and 75,000 users worldwide, millions of projects
Applications:                               200+ applications under management
Team Members:                            95
2014 MRR YOY Growth:                 48%
Annual Customer Renewal Rate:    Over 90%
Data Centers:                              Boston, MA; Toronto, CAN; London, UK owned and operated by
SunGard; San Diego, CA owned and operated by Scale Matrix. Working with Microsoft Azure for Asia PAC, all provide Ping, Power, Pipe and facility security.