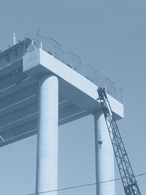 Architecture, Engineering & Construction
LoadSpring has an amazing amount of experience enabling AEC Program Management teams and their IT departments. This includes projects that are modest in scale as well as enormous, multi-facility, global ventures.
Our ability to deploy a comprehensive, customized solution rapidly proves invaluable. This helps AEC firms "hit the ground running" upon the minute their contract is awarded, so as to avoid lost opportunity costs.
LoadSpring Benefits for AEC Users
Faster application deployment.
Minimizes lost opportunity costs.
Eliminates startup capital requirements.
Provides proven, preexisting security & support.
Shifts deployment risk to the application provider.
Reduces IT department overload.
Eliminates guesswork & provides the confidence of proven configurations.
Enables simple and fast provisioning of users and applications.
Here are some of our partners per industry:
BAM Nuttall LTD
CB&I – Shaw Environmental & Infrastructure Engineering of New York, P.C.
CH2M Hill
Clark Construction Group LLC
DCK Worldwide, LLC
Fluor Corporation
Jacobs Engineering Group Inc.
Kentz Corporation
MasTec
MWH Global, Inc.
Orange and Rockland Utilities, Inc. (ConEdison)
Sargent & Lundy LLC
Skanska USA Inc.
SNC-Lavalin Inc.
STV Inc.
Swinerton Inc.
Tappan Zee Constructors
Tech Mahindra
Tully Construction Co. Inc.