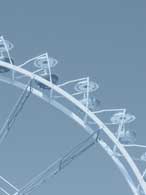 The amount of time, resources and personnel that go into building and maintaining theme parks is staggering. Thankfully, LoadSpring helps bring these Herculean tasks down to size.
Working with entertainment enterprises, theme parks around the world, we give you and your teams the power to manage projects smoothly and efficiently — even under extreme time constraints.
Our comprehensive, tailor-made solutions maximize uptime for rides and attractions, helping you avoid lost income opportunities.
LoadSpring Benefits for Entertainment Users
Helps manage multiple construction / maintenance projects worldwide.
Slashes turnaround time.
Increases efficiency and control of the entire process.
Better adherence to deadlines; Rides and attractions WILL open on time.
Deceases time lag between project start and profitability.
Provides 24/7/365 access to our award-winning support.