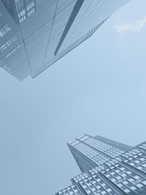 It's no huge secret that big banking and financial institutions can have dozens of projects going on at any given time. And scads of them are IT and IS projects, with wildly variable scopes and lifecycles.
This lack of predictability can turn security into a major headache, especially when work is done both internally externally. How do you keep vendors and consultants in the loop without jeopardizing security and data integrity? By putting the job squarely in LoadSpring's capable lap. We can extend our secure framework to entire application suites, making it easy to provision team members inside or outside the firewall.
Benefits for Financial Services Users
Eliminates the need for startup capital.
Makes sure that costs accrue in a linear, predictable way.
Gives you secure access for remote users, vendors and consultants.
Provides flexible, scalable application solutions.
Ensures more efficient software administration.
Guarantees access to the latest technologies and upgrades to support long-term projects.
Cuts IT department overload.
Enables simple and fast provisioning of users and applications.
Click here to view Financial Customer Success Stories.