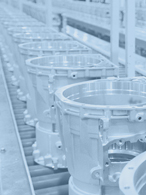 Manufacturing & Heavy Equipment
Today's manufacturing projects are anything but easy or simple. But with LoadSpring's massive experience in this area, ease and simplicity CAN be a part of the equation.
We host manufacturing project solutions for products of all kinds. This includes everything from heavy equipment, aerospace and industrial products to consumer goods, medical devices and electronics.
We know what it's like to sync up with product development lifecycles and stay ahead of organizational changes all the while striving to cut costs and say organized. Fortunately, LoadSpring custom-tailors each software solution to tackle these and countless other manufacturing challenges.
Benefits for Manufacturing Project Users
Delivers faster ROI on software.
Eliminates startup capital needs.
Gives you a linear cost structure that can be amortized throughout the project.
Affords instant solution scalability.
Allows solutions to be configured on a project-by-project basis.
Guarantees access to the latest technologies and upgrades.
Radically cuts user learning curves.
Here are some of our partners per industry:
Apple
GE Switzerland GmbH
Mitsubishi Heavy Industries
MODEC International