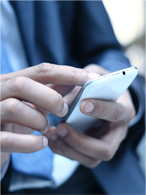 You've Got The Whole World In Your Hand
LoadSpringMobile is one of those "why-didn't-I-think-of-that" wonders that lets people in the field use nearly any mobile device to easily access and manage all your projects and information.
Other project management hosting interfaces try to cram entire applications onto your minuscule mobile screen. But LoadSpringMobile is designed to actually fit smart phones, iPads, tablet PCs and other gadgets.
LoadSpring Power to Go
Now you can work on the fly with applications like Primavera P6 and Contract Management—all on a simple, uncluttered screen. Every tool is there, without unneeded bells or whistles that give you nothing but a dull, throbbing headache.
Let your people get down to business—without any irrelevant functions they don't need.
Streamline your business process needs.
Leverage the power of existing applications like P6 and CM.
Effortlessly interface with multiple backend applications.
LoadSpringMobile lets users of our SpringBoard Cloud Portal view and update data bi-directionally and make the most of the Cloud. They just log in, select a project and get to work.
Now everyone can harness P6 to view, edit, initiate activities, and gauge progress. And they can use CM to review, manage and add RFI's, submittals and issues with just a few gestures.
 Finally. Something that's as easy as it looks. Everything you need, and nothing you don't. Click here to preview it now!
Simplify, Simplify, Simplify
LoadSpringMobile streamlines the whole workflow and approval processes of P6R8 and CM14. That way, you'll know that field updates will be reviewed and accepted before committing to permanent changes.
Client-specific fields and forms are also available. Our project management solutions team would be tickled silly to custom-build them for you.