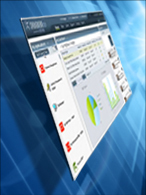 SpringBoardInsight - Project Intelligence Doesn't Get Easier (And Faster) Than This
Imagine being able to access your project intelligence and executive reporting needs from all your Project Management software in one single source… That means not having to remember multiple projects and apps that you can't even remember how to navigate. Well, that is possible now via the LoadSpringInsight capability offered only through LoadSpring Platform.
LoadSpringInsight is a fully customizable project intelligence system that provides concise data gathered from all your Project Management apps and displays them in graphs, tables, S-curves, and any other form of report you need in order to make quick Executive Level decisions. Talk about a huge competitive edge for you!
But the fun doesn't stop there. The Status Entry capability offered on LoadSpringInsight  lets you capture project status and performance attributes such as safety metrics, customer satisfaction data, and even status overviews at a narrative level – all information not natively caught in apps like Primavera P6, Contract Manager (CM), or Ares Prism G2.

Project Intelligence: Make Your Apps Work For You
No matter which apps you use, LoadSpringInsight integrates smoothly with them. It even links easily to project websites such as SharePoint and many others. Here are a few examples of information displayed when synced:
LoadSpringInsight+ PRIMAVERA P6
Displays the data you need to make Executive, high-level decisions fast and easy. This includes:
Schedule status, such as start and finish dates
Completion percentage status
Red/Yellow/Green status indicators of project performance
LoadSpringInsight + PRIMAVERA CM
 Provides easy-to-read visuals on business process performance like:
Displays concise information on RFIs to keep a track record of all responses and minimize miscommunication
Minimize delays and cost overruns by tracking project issues
Offers a flexible drill down structure by Project Level, Discipline Level, and Cost Code Level
LoadSpringInsight + Ares Prism G2
Drill down into cost codes and project cost data quickly and easily.
Integrates with G2 to plot cost performance via a simple grid and S Curve
Compare budget vs. actuals
Analyze data down to the control account
What does all this mean? Improved project performance and faster decision making in less time and with less effort.