LoadSpring Cloud Platform Overview
Welcome to the original human-friendly Cloud control platform. It helps you make faster, more informed project decisions. Securely access your Project Management and Engineering software, data, teams, intelligence and more: anywhere, any time.
Brochure, Please
Show Me the Demo
Preview: What is This Thing?
The LoadSpring Cloud Platform is an incredible Cloud-enabling tool that gives you supreme control of all your projects and collaborations worldwide.
The LoadSpring Cloud Platform in six short words:
SO FAST.
Lightning quick Cloud access plus iron-clad security.
SO EASY.
One-click access to 200+ Project Management apps.
SO SIMPLE.
Business Intelligence tools at your command.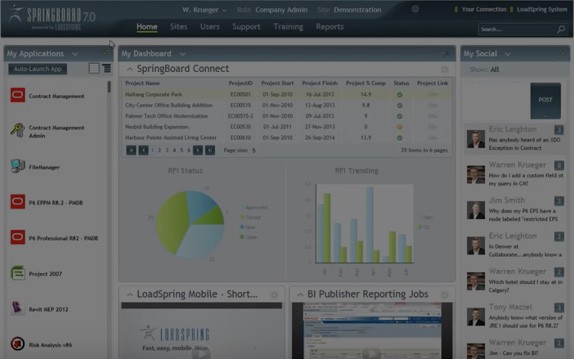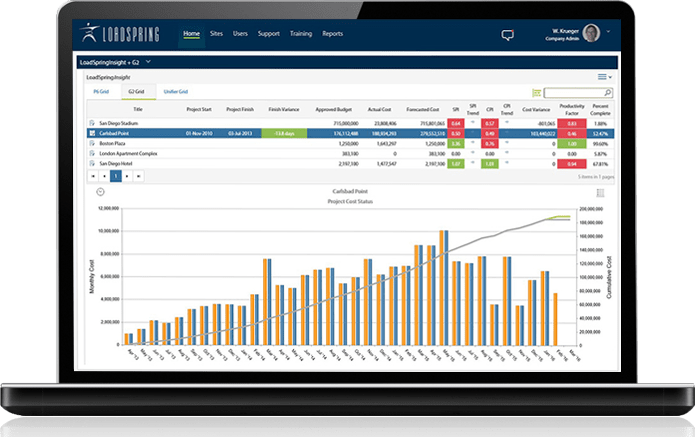 Intelligence by LoadSpringInsight
This executive-level dashboard lets teams and management view ALL key project data and KPIs at a glance, and it's all a part of your powerful LoadSpring Cloud Platform.
The Business Intelligence is Baked Right in:
Concise understanding increases ROI and speeds up decisions
Get consolidated data from different Clouds and multiple apps
Get cost/schedule status data with full drill-down ability
Capture performance attributes not caught in single apps
Allows you to easily print and export reports
LoadSpringMobile
Do more, anywhere by launching our simple LoadSpringMobile interface on any smartphone, tablet or similar gizmo.
Keep working in the field and stay active and connected on key projects
Access to administrative functionality wherever you are
Straightforward, field-friendly versions of P6 and CM and others
View, edit and manage activities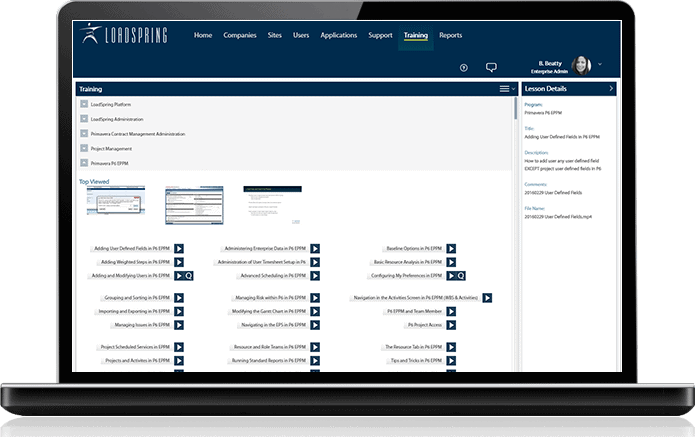 Training by the Experts
Our LoadSpringAcademy helps users
adopt Project Management solutions and software
– and use them like a total pro.
LoadSpringAcademy simplifies each user's software training
Yields the most from your software investment
100+ free, preloaded tutorials and quizzes, available 24/7
Staff and field teams learn through videos and course modules
Live instruction at your facility is also available, including train-the-trainer
Let's Talk
Real, live experts in Cloud portfolio management are available to start your Perfect Cloud conversations and make your job faster, easier and more efficient.
Reach Out
(We won't bite)