Warren Krueger – EVP Customer Experience, LoadSpring Solutions.
After one of my recent project status visits I was having dinner with a good friend, one of the most passionate and talented project managers I have worked with. As usual, I was whining to him about something. This time it was my frustration with what I perceived to be a lack of project management literacy among people from whom I "expected more." Why was it, I asked, that a program manager at a Fortune 100 company couldn't understand the classical earned value concepts that are standard on large capital projects? He replied, "Warren, why not present the project status data in ways that are easier to comprehend?" I didn't have an immediate solution, but his question set my wheels in motion away from my classical project management roots (classical meaning Gantt charts, CPM analysis, PERT charts, earned value metrics, etc.)

It's not that I expect all project stakeholders to understand the details of earned value analysis, but simple yet handy indicators of project efficiency such as cost performance index (CPI) and schedule performance index (SPI) weren't resonating with this audience. It was time to for me to get more relevant with my stakeholders.
Fresh Visualizations
It just so happened that the type of projects we were dealing with at the time had a linear aspect to them. In other words, they traversed the land surface for miles, and one of the reports that resonated with the owner was project data displayed on a map. Building on the owner's receptiveness to information presented in this way, I set out to answer two questions:
What type of projects benefit from using a map display for project status communication? (I'm told the fancy words are "geospatial visualization")
What types of project data are best suited to being displayed using geospatial visualization?
To separate my quest from the more data intensive applications of Geospatial Analysis used for modeling risk for instance, I'm focusing here on project management data reporting when I use the term "geospatial visualization". LoadSpring™ does indeed manage complex geospatial platforms for modeling all types of risk data in the engineering, planning, and construction industries, but we'll save that for future posts.
For those familiar with Building Information Modeling (BIM), location data is used similarly but on a land based spatial plane vs. structural plane.
Question #1: What type of projects benefit from using a map display for project status communication?
First, the project requires some form of geospatial relevance. Linear projects are key candidates, including roads, sidewalks, pipelines, electrical distribution, and gas distribution. Other geospatial reporting candidates include the level above the project to a program or portfolio that has multiple dispersed locations containing repeatable "cookie cutter" projects in different locations. An example is the restaurant chain business where the same building is being constructed in multiple locations simultaneously.
Question #2: What types of project data are best suited to being displayed using geospatial visualization?
If I think about frequent requests for project status information from owners and project stakeholders the following list comes to mind:
Project overview data:
Original budget
Original duration
Planned start/finish
Project status:
% complete
Schedule status (behind schedule, ahead of schedule, estimated finish date)
Cost status (actual cost, under budget, over budget)
Issue status (counts of open vs. closed with trending)
Earned value metrics (EAC, BAC, ETC, CPI, SPI, etc.) OK, I'm sneaking these into the list!
Risk status:
Open risks vs. closed risks counts (risk burn down)
Other data:
Project photographs
Project documents
Safety incident counts
Fortunately, LoadSpring Solutions, the market leader in cloud-based project management solutions has a team of rock star application developers that could take this idea and help me prove it out. Here's an example LoadSpring developed through LoadSpring Cloud Platform using a map visualization to view project photographs and project status all in a single view. The first step is to zoom in on the map to see the projects. The use of a pin on a map represents the location of a project. In our case we used an orb to represent a project with color, size, and a displayed number to present different project data attributes. Once an orb is clicked additional project information is displayed.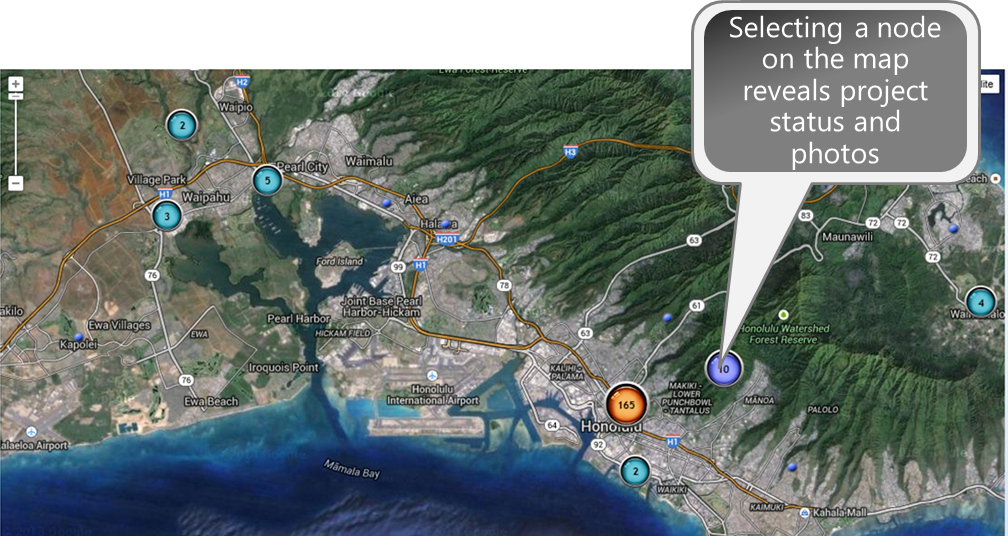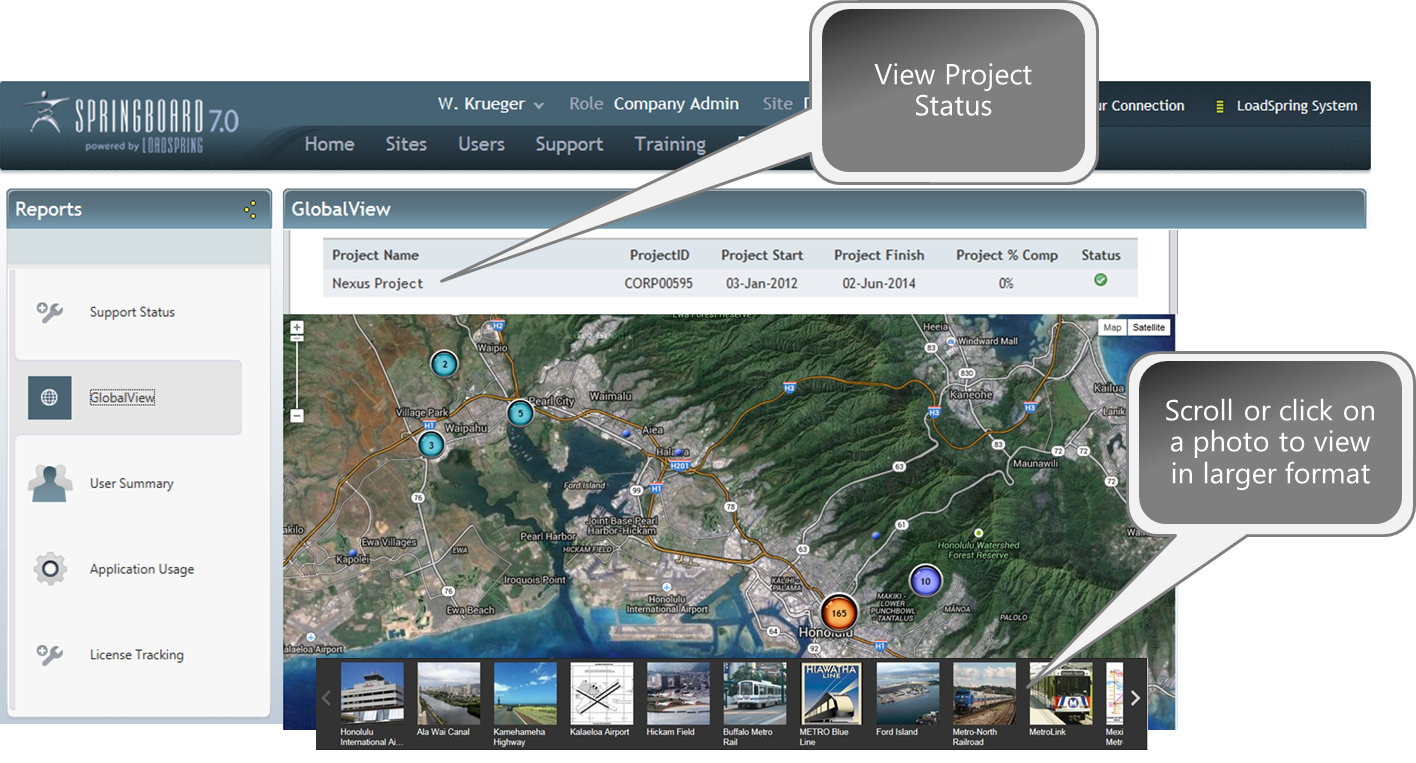 I was pleasantly surprised to see LoadSpring Cloud Platform has the capability to display over five dimensions of project data in this way. Here are a few examples of how project status data can be visualized on a map:
Size of the orb: could represent a project size attribute such as budget size or level of risk
Shape of the orb: could represent any project type attribute such as managed by a different business
Color of the orb: could represent project status attributes using 'traffic light' indicators or any color scheme
Text/number on the orb: used to provide a count (the example above shows a count of project photos available to view for that project)
Hover-over display: could provide a popup of relevant project details such as start/finish/% complete
Drill down: could be used to navigate to a project-specific report with the capability for stakeholders to collaborate with project managers. The possibilities are only limited by our imagination.
Parting Shot
Today, we're talking about a creative reporting approach to speed the communication of project information to a growing audience that may not be classically trained in project management. In my next topic I plan to continue this discussion of geospatial solutions in project management, based on what LoadSpring has learned through managing enterprise geospatial solutions for our customers. There is also a fascinating area to be discussed of exploring multiple data layers simultaneously to perform detailed project risk analysis.