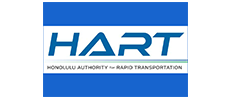 Project Management on the Big Island for HART
In 1942, a radio show started in Britain called "Desert Island Discs" where guests picked the eight records they would take with them if ever left on a deserted island. Imagine creating a modern version, "Desert Island – Project Management", where project teams pick the Project Management resources they would take with them to a distant location – like Hawaii, for instance?
Solving a Skills Shortage
This was the situation that Lisa Varney, Senior Project Control Analyst, found herself in. With pivotal responsibilities in IT and documentation, she needed to find exceptional resources in developing a new rail transport project for HART (Honolulu Authority for Rapid Transportation). Hawaii has an infrastructure desired by many and we have comprehensive documented evidence to that effect (that's right, Hawaii Five-0). However, for this particular project, a lack of required skills meant that an external service provider was the only choice.
LoadSpring™ is Selected
Accordingly, Lisa and her team made a request for proposal (RFP) to find the best candidate. They were clear in their requirements for hosted project management services, including daily backups, tight security, a single access portal, and cost-effectiveness. No surprises – LoadSpring was the company that met all the criteria and wowed the HART project team. Not only does LoadSpring focus solely on creating customized Cloud Project Management solutions, their enabling technology, but LoadSpring Cloud Platform also enables 200+ project management applications.
LoadSpring Cloud Platform Makes It Happen for HART
LoadSpring Cloud Platform has been giving the 323+ HART project team members secure single sign-on to Primavera P6, Contract Management, and SharePoint, and when roadblocks come up, Lisa Varney considers the customer support from LoadSpring to be "phenomenal" (her choice of words). She also says, "LoadSpring engineers are the experts in the Primavera/Oracle software." Having this dedication and expertise shine through shows how devoted LoadSpring is to its project management community. Indeed, it is the only cloud project management company that provides complete solutions to its customers.
Project Management Made Easy (or Easier)
LoadSpring Cloud Platform has many features that make life so much easier for the HART project team. LoadSpring Academy includes preloaded and customizable training videos and quizzes that accelerate user learning and productivity. Easy license management enables administrators to see how many licenses are being used, who is accessing them, and from what geographic location. LoadSpring Cloud Platform Insight feature enables intelligent reporting by condensing the most important data from various applications into customizable dashboards. 'Sandbox' options let team members try out new, hosted project management options without perturbing existing projects. Meanwhile, LoadSpring also looks after all the latest software versions and server resources to keep systems running optimally for HART, letting the project team concentrate on building a great rail link.
Contact LoadSpring Now
So whichever island in the sun you'd like to pick for managing projects, big or small, you too can take the market leader in cloud project management solutions with you. You just need Internet access (twisted pair, cable, Wi-Fi, mobile, satellite – one of these will work) and you too can enjoy the power, flexibility, and productivity of LoadSpring Solutions. Contact us today – and remember to pack your suntan lotion.
Let's Talk
Our real, live experts can help you navigate our Cloud Project Management platform and make your job faster, easier and more efficient.
Reach Out
(We won't bite)