The AutoVue Alternative to all those CAD Tools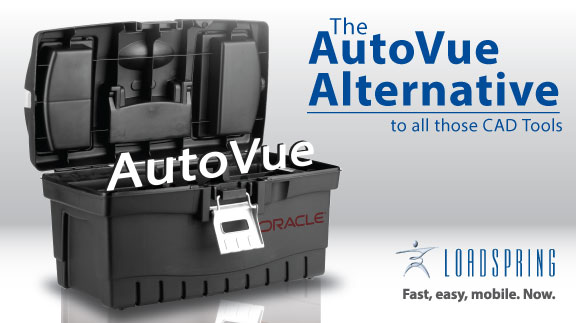 With AutoVue, Oracle provides a solution to improve the situations that arise when depending on a wide range of CAD applications available to organizations for creating and viewing both 2D and 3D models. Enterprises in engineering, construction, oil and gas, manufacturing, automotive, aerospace, and high-tech sectors depend on these documents to manage product design, manufacture and maintenance. But they also depend on product lifecycle management (PLM) and project management solutions to put this information into the right sequence and add to it or modify it at the right time. Switching between these different modes of work can be time-consuming and complicated for the different users and audiences.
Enterprise-Wide Visualization
Oracle AutoVue Enterprise Visualization is a suite of applications bringing users a web-based capability to access and collaborate on both technical and business documents. The advantage for an organization starts with any document-intensive workflow. Examples include engineering design reviews and approvals, construction asset management and machine maintenance operations. AutoVue also obviates the need for an enterprise-wide audience to use specialized CAD or PLM tools. It handles file types from the leading vendors in these specialized domains, and also enables users to view, print and collaborate on digital information in other systems.
Linking Up Directly With Project Management
AutoVue links up with the P6 EPPM (enterprise project portfolio management) application and Primavera Unifier from Oracle. This meets a dual requirement for many organizations. First, it improves visibility of project planning, risk management and resource balancing. Secondly, it gives both technical and non-technical observers access to project data. The AutoVue-P6 integration gives users one-click access to information for sound decision-making, including complex projects with many participants and supporting documents. Interdependencies between teams can be managed better, so that decisions made in one area can be leveraged in others and negative side effects avoided.
Agile Too
Both traditional waterfall-style and agile PM methodologies can be enhanced with AutoVue. With AutoVue for Agile Enterprise Visualization Solutions, visual decision-making can be made available across an enterprise and its product life cycles. For example, asset data from an engineering team can be used by field service staff in their onsite activities of maintenance and repair. Agile advantages include the optimization of new product development and launches, change management processes and supplier collaboration, while protecting the intellectual property of the enterprise in all cases.
The Need for Speed
Whichever project management methodology is used, visual decision-making must not be held up by delays in accessing the documents concerned. Some CAD documents may be several gigabytes in size. AutoVue provides streaming file functionality that can dramatically improve time to load such files. For instance, a 3D model that would take 10 hours to load in the CAD application that created it can be loaded in streaming file mode in AutoVue in about two minutes. Most of the other files handled by AutoVue benefit from good loading time improvements too: by a factor of 5-10 for smaller 3D files and by 2-5 for non 3D-formats.
Further Integration
Besides out of the box integration with P6 EPPM, AutoVue hooks up directly with Oracle Contract Management to facilitate interaction with documents and make project scope definition, planning and execution easier and more effective. Its standards-based integration framework lets users create visual decision-making environments that optimize existing IT infrastructures. It also helps to link disparate systems for a flexible and powerful solution to optimize information flow across an enterprise.