Extend the value of your Primavera Contract Management with the fully integrated Digital Project Portal in LoadSpring

By Michael Dawson, Strategic Accounts Director, LoadSpring Solutions, Inc. and Jason Matthews, VP Sales & Marketing, Lifecycle Technology, Ltd.
One of the most important processes in any engineering and construction project is the review, redline, mark-up and comment of design documents. Over the years there have been many project management and document management solutions that have taken a crack at providing these industry standard capabilities, but they have typically provided limited functionality or pieces and parts of a total solution. For example, there are a few key gaps in standard Primavera Contract Manager (PCM) that customers require:
Simple Mass Upload and Registration of Attachments to Submittals
Robust Comments tracking on-line review integrated with the PM tool
Round trip of redline, markups and comments for documents including CADD, pdf, images, photos and many other file formats
Efficient Workflow Management of Project Resources by Discipline
Quick One-Click Search to find relevant project related information
Easy to use Paperless Collaboration using a review Workbench
Often these capabilities would require a full license of the application in order to only perform design review. The design reviewers are typically not involved in contracts, changes to orders, and all the costs functionality that is included.
Digital Project Portal (DPP), created by Lifecycle Technology, is available through LoadSpring and removes these key inefficiencies in PCM standard. You can also provide a much lower cost design review solution using DPP and a lower cost web service license of PCM.
Deliver an on-line Paperless Review Process
Nothing is more tedious and mundane for an engineer than having to plough through paper submittal documents to find, review, analyze, mark-up and sign-off. If they have to print, scan or photocopy documents, the engineer's time can be even more wasteful.
Work that previously took hours or even days can now be completed in minutes by leveraging technology in the Digital Project Portal. Engineers still need to complete their submittals, but now they can complete their work electronically within the Digital Project Portal for PCM.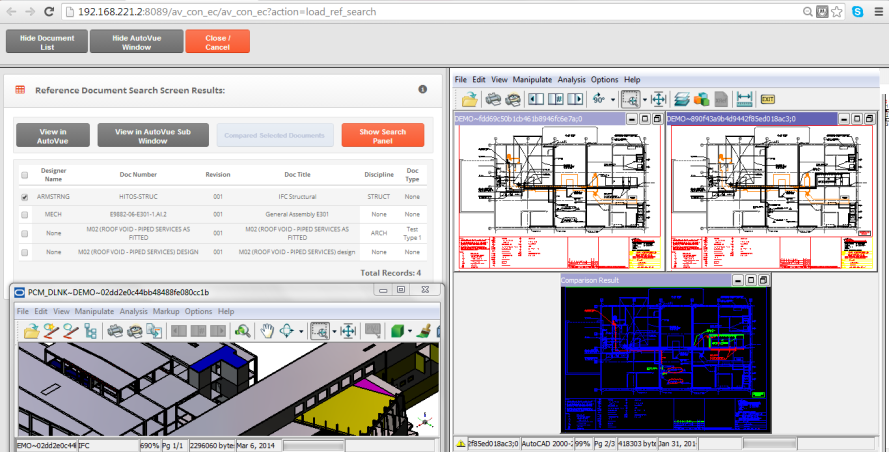 Using Digital Project Portal with PCM for paperless review is now a reality.
Remove the Inefficiencies with Multiple Attachments and Submittal Registration.
Using Digital Project Portal for PCM, users can simply login to a web page with authentication using PCM credentials and grab as many attachments they need.
Users do not have to set-up submittals, submittal packages, review cycles or attachment placeholders as it all happens in one screen, which is fully integrated to Primavera Contract Management. All you need is a project.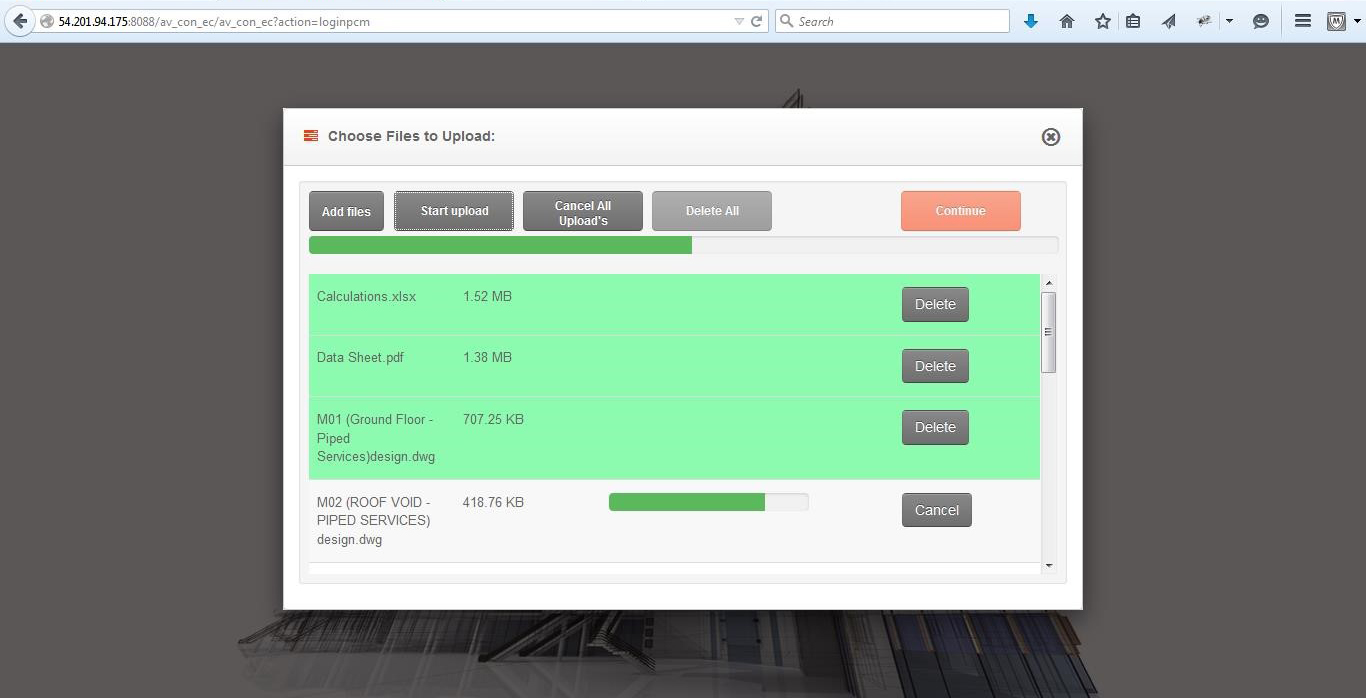 Users can select many attachments and upload multiple files at one time.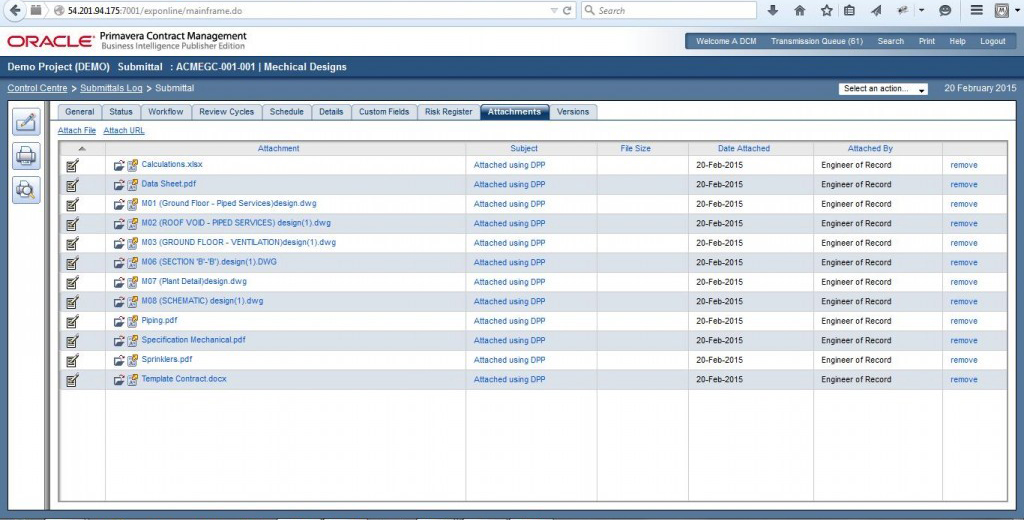 Due to the tight integration to PCM, all attachments and submittals are automatically registered ready for workflow.
Significantly reduce the wasted time searching for Project related documents.
On a project with many thousands of documents, being able to quickly search and find relevant information or documents is essential.
Usually, the information you want is stored in your PCM system, but how do you easily retrieve this information in minimum time? What metadata do you search on to find the right document? Are you looking at the right version?
Using the Digital Project Portal, you can quickly and easily find documents using a selection of search criteria. Users can then simply view their chosen document or documents instantly through a web browser using Oracle Autovue.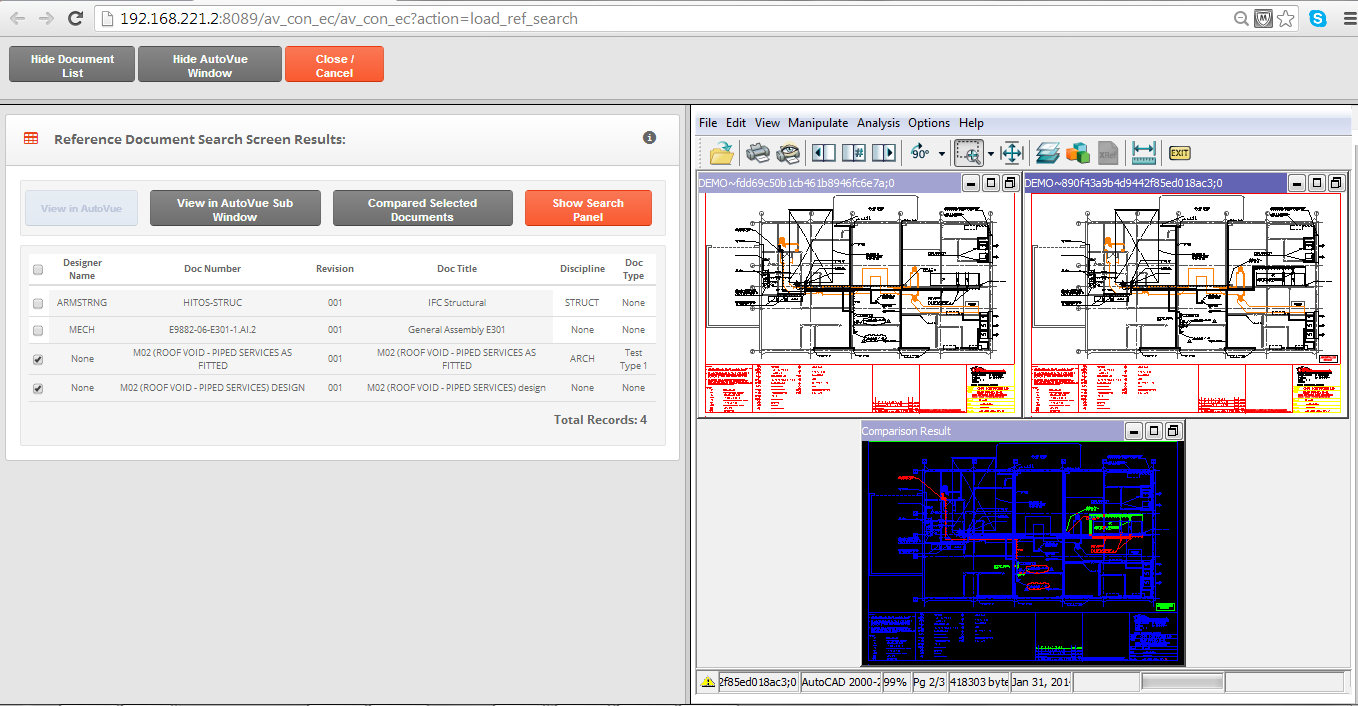 Using Digital Project Portal users can instantly search, find and view project related documents held in PCM regardless of format and without downloading anything.
Control and auditing the comments tracking process.
Excel does not provide a secure, audit trail for the tracking of comments on projects. It is critical to ensure the process is managed well and that comments and narrative that address common project issues are secured and can be referenced later, when money needs to change hands for variation and claims.
Digital Project Portal captures all initial comments electronically which then become available on-line. Reference comments to a drawing or specification page, generic, and sub comments are all captured and secured with access rights. The comments package can then be passed to the appropriate parties for review using workflow with a full audit trail. Subsequent rounds of comments, supporting the close out or carry forward process, are available on-line. This removes the need for Excel and captures your audit trail.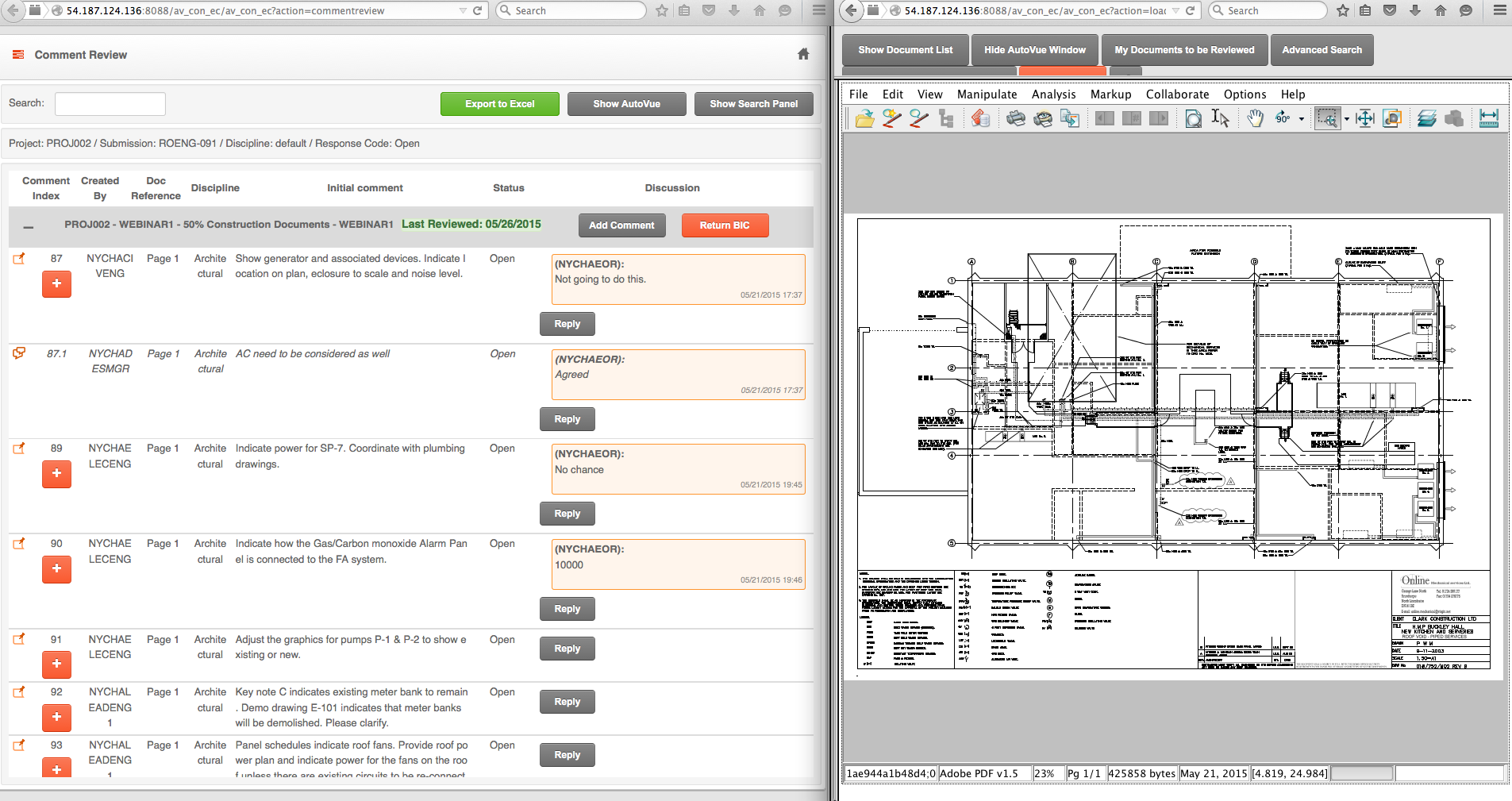 All stakeholders can collaborate on the comments tracking portal, which provides a full audit trail and secure process, end to end.
Stop wasting time in the management, changing, chasing & checking of the status of submittals out for Review.
It is all too easy to lose sight of who has which document, where the document is (or even where the reviewer is) and when the review will be completed.
Often, the only way to get visibility of the submittals process is to get on the phone, walk from desk-to-desk to the reviewers, or use email. Where reviewers are based in different locations, submittal management becomes even more of a challenge.
This constant chasing up and hunting down takes time and is incredibly labor intensive. More so, the knock on effect of not getting documents back in time can be catastrophic on the contractual obligations, costs and schedule of a project.
Using Digital Project Portal integrated with PCM, organizations can quickly and easily set-up and manage projects through a simplified user interface and have complete visibility of their submittals process.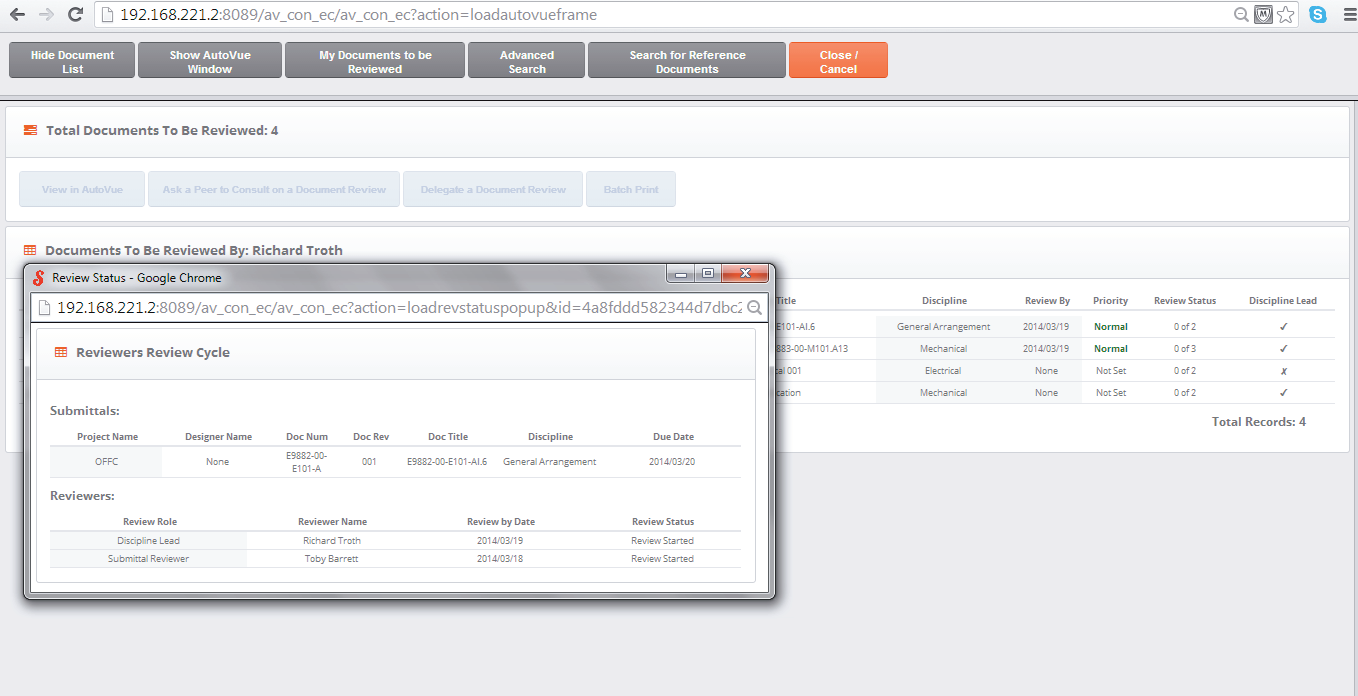 Document Control Managers can enable workflow on multiple submittals groups of users (i.e. Mechanical, Electrical…) and instantly see where things are in the process.