How Mobility and the Cloud Affect Your Workforce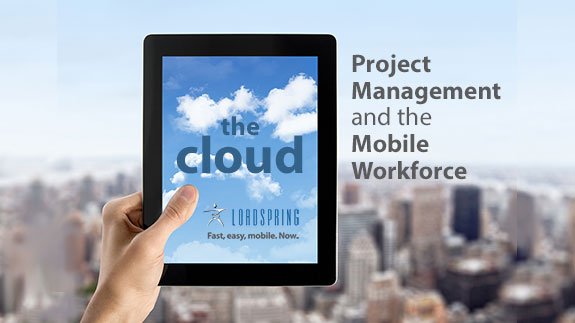 Have you ever watched clouds as they move across the sky, forming, un-forming, reforming? You can see them. You know they're there. But you don't always know where they'll go next or what they'll turn into. The cloud metaphor in IT was initially a shortcut to refer to a network of computing resources, but it's turning out to be a model for the next generation workforce too. Employees and contractors have increasing freedom to roam around and to work anywhere there is a net connection. The new mobility in work means they may no longer have to show up on your site in order to contribute to the success of your projects.
From the Outside In
The human resources trend, encouraged by cloud and mobile computing, is increasingly towards independent workers and project-oriented contracts. Their expectations are that a company's infrastructure will in fact be an extra structure, where they can hook up remotely and work together in a virtual team outside the constraints of the traditional corporate nine-to-five framework. Cloud talent sourcing is also on the rise. Team members will come, go, come back again and so on, with teams configuring and reconfiguring like so many skyscapes.
Project Management Must Adapt
Project management in an organization needs to take account of this constant change. A project management system must be more than just functional. It must allow you to adjust capacity in real time, not in days or even in hours. It should be flexible enough to be resized according to requirements. It must give users access according to their level of authorization, wherever they connect from. And it still has to give the organization a complete, transparent view of its entire project portfolio as well as drill-down detail on any particular project.
The Cloud – a Match and a Challenge
Requirements for elasticity, scalability and control fit naturally with the potential of cloud applications. But workers who live in the cloud also need performance, reliability and security when they connect to execute their project management duties on your behalf. Mobility and the cloud bring new challenges that did not exist when applications were hosted by enterprises themselves for employees physically on your site. Now connections must be rugged and optimized for uncertain network conditions and security has to be simple yet effective for people you may never even meet.
A Platform for Productivity
The good news is that when you have the project management system in place in the cloud to do this, then you're set to make the most of the increases in productivity and efficiency that worker mobility can bring. Latency is reduced between decisions and action. Team members wherever they are can be informed immediately of news and changes. Resources are managed in real time and project events logged as they happen. Mobile team members can work effectively and efficiently wherever they are, while your organization remains in control of its projects, objectives and deadlines. That also gives you more time to plan ahead for new projects – and perhaps take a moment to admire a few natural cumulus clouds as they pass by.
Our SpringBoard Cloud Portal lets you seize control of the most potent Program Management suite ever—without the usual complexity or frustration. Ask us how +1 978.685.9715 / info@loadspring.com or see our demo video.