When Applications Become One Big Mess
Getting your messy Project Management apps to play nicely
In almost every neighborhood there's that one house — the one that seems perfect on the outside, but is a chaotic mess inside. But you're nothing like that, and your business isn't either. Right? Maybe not so much.
If you take an honest look at your Project Controls and Management applications and infrastructure, you may find just as ugly a mess. Sure, you have all the gleaming hardware on the outside, but even the most buttoned-up enterprises may be running applications that are incredibly complex, sucking up resources, never current on upgrades, are outdated or just plain wrong for your business.
Suddenly, terms like chaos, confusion and disarray are a part of your otherwise tidy, organized vocabulary. When things get messy enough, it's like having a frenzied problem child running rampant through your projects. And when multiple apps start fighting each other, it's more like a wild pack of first-graders on a sugar high.
There is a solution, but first, a little background.
What makes an application messy?
Ironically, even Project software that's meant to a give you a streamlined, more efficient operation can actually add to your organizational woes. Look for signs of trouble when these apps are faced with…
Integrations. If done incorrectly, they can mess with all your applications, keeping them from working in harmony. This is especially true with software that isn't based in the Cloud.
Updates and patching. Keeping track of which applications have or haven't been brought up to date can be an organizational nightmare and take lots of time.
Multiple servers. Applications that process huge loads of information through different servers are just asking for serious complications. Add to that servers that are set up incorrectly and you'll have a time bomb waiting to happen.
Resource intensive processing. When mega apps have an insatiable appetite for processing mountains of Big Data at mind-bending speed, trouble isn't far behind.
Joint venture access. This adds to the complexity given the need to provide access to non-employees into your system then remove them once they are done with the project – who remembers to do that? This scenario makes it difficult to maintain data security.
The bitter-sweet side of messy apps.
By their very nature, these kind of apps can be oh-so-complicated, due to things like different Professional and Web options, Business Intelligence and Analytics. That's because they are resource-intensive and require lots of processing to move data around. The larger the amount of information that has to be moved around, the more complex and messy it gets. Let's keep in mind that although some apps may be complex, many of them contribute to the competitive advantage of an organization.
That's nice. What are you gonna do about it?
There's no question that these complicated apps can cause pandemonium if not tamed by very, very, very talented Cloud experts. Yes, like the ones at LoadSpring. We've streamlined the whole process into a simple two-phase formula:
Phase 1: Bring us your complex apps and integrations
Phase 2: We'll fix 'em
And when we say "fix," we mean integrating everything into your Perfect Cloud, all within your own environment, and creating Project Management solutions that are fast and easy to execute.
What does LoadSpring bring to the party?
Let's just say we have the knowledge and capabilities it takes to streamline and simplify your very complex world. These include:
System administration skills to build the infrastructure
Expertise in database construction and administration
Implementation knowhow to make sure people can actually use the applications
A mastery of networking and Cloud management
Advanced knowledge of the latest security measures
And experience with these apps
As the market experts in Cloud-based Project Management, LoadSpring has extensive experience working with complex applications tuning and sizing them for optimum performance. But that's not all… We enable integrations to suit any number of internal or external apps, clearing the way for less complication and more productivity. Problem solved. No more mess.
Find out how we make even the most complex Project Management apps easier and more efficient throughout your operation. Call or email us soon at (978)685-9715 or information@loadspring.com.
---
Whatever You Do, DO NOT Settle for Less
Seriously. You need to read this.
There's more than one way to get your Project Controls and Management enterprise into the Cloud. You could settle for a provider who'll sell you "infrastructure in minutes," but deliver an empty shell of a Cloud. Or someone who'll happily load you up with applications, then spend the rest of their time ignoring you. Nice.
Time to "settle" for more.
Okay, have a look at the chart below. At a glance you'll see that LoadSpring doesn't stop at bare bones basics, but builds your perfect Project Management Cloud around your enterprise. Fully customized from the ground up, in weeks not months.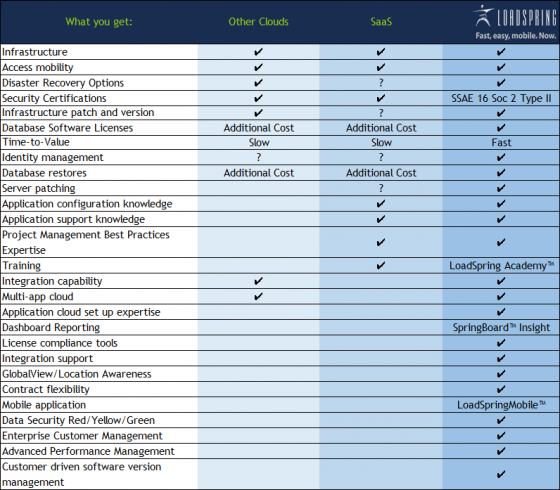 Look at the other guys' columns and you'll find yourself asking, where's the solid security? Where's the rapid ROI? Or, who do I call for database restoration, user training, dashboard reporting and mobile application support?
Finally, scan our column and discover our CIA-level security, fast ROI, LoadSpring Academy™ training, SpringBoardInsight and LoadSpringMobile™ solutions. Yes, we do it all, we do it right, and we support you from Day One until the proverbial cows come home. So much for settling.
Instead of an all-or-nothing approach, we ease you into that shiny new software in small, bite-size chunks. Then, you can evaluate different versions in parallel, determine which suits your needs, and make an intelligent decision over time.
LoadSpring is the only truly complete Project Management Cloud solutions provider around. And the only one you'll ever need. Call or email us for all the specifics.
____________________________________________________________________________
Mastering Geospatial Software: Don't Get Lost
LoadSpring takes Portal for ArcGIS from complexity to simplicity — fast
Someone once said the journey's easier when you know your destination. Really, someone had to actually say that. When Black & Veatch, a global engineering, consulting and construction company decided their next destination would be into the future (of Geographic Information Systems), they asked LoadSpring to map out the easiest way.
The company was looking to utilize ArcGIS software as a way to turn mind-numbingly complex data into simple, easy-to-interpret visuals. What they liked about Portal for ArcGIS (or "Portal" for short) was how it does so many things so well:
Easily creates, secures, and manages geographic assets
Connects apps, maps, and geo-data for use by all team members
Accelerates project work and productivity
Mashes ArcGIS services to customize maps, making them available on web browsers and mobile devices
Portal Implementation made easy. Way easy.
Portal software can be complicated when provisioning and deploying behind a secure interface, thus controlling distribution of content. And yet we made it all look shockingly easy. How?
Integrations. By streamlining implementation
Integrations. Overcoming perplexing software architecture
Integrations. Offering deployment at a predictable fixed price
SpringBoard: gateway to geo happiness
Project teams at Black & Veatch can now launch the Portal application effortlessly with our multi-talented SpringBoard Cloud platform. Once launched, Portal gives fast access to other apps to distribute geospatial data and tasks. It also links with ArcGIS Maps for Office, Collector for ArcGIS, and Operations Dashboard for ArcGIS.
When all was said and done, we brought tons of complexity down to size, put the company in firm control of their geospatial world, and left project managers sitting with a tidy return on investment.
Still curious about how simple, fast and budget-friendly out Portal implementation for ArcGIS can be? Call us or log onto http://www.loadspring.com
---
Get a Load(Spring) of Our New Best Friends
Meet LoadSpring's newest customers as they team with us at the intersection of Fast and Easy. We welcome these exceedingly brilliant, talented and good-looking people to the fold. (Did we mention how brilliant and talented they are? And good looking?)
KDG Construction Consulting
City of Redlands
Orange County Utilities Dept
Chevron Phillips
AMEC Foster Wheeler
To further satisfy your curiosity about the benefits enjoyed by LoadSpring clients, go to loadspring.com/case-studies
---
The Expert's Experts Have Joined Our Team of Experts
New recruits unite in our battle against Project Management mediocrity
Garry Galvin, Enterprise Customer Manager – UK
Dominic Carbajal, Accounts Payable Specialist
Jolene Tate, Senior Accountant
Know someone who'd fit in with our worldwide band of nomadic tech heads? Point them to loadspring.com/careers-job/.