BIM in the Cloud – Don't go in alone
Not Exactly the Model of Simplicity. Or is it??
Building Information Modeling (aka "BIM") is gaining popularity faster than the Macarena in the '90s. Folks in the Architecture, Engineering, and Construction (AEC) field love BIM because it lets them visualize a given project's physical and functional characteristics in glorious 3-D.
But harnessing BIM applications in the cloud has great promise and persnickety challenges.
THE PROMISE
Because BIM in the Cloud lets your team watch real-time projects evolve in graphic detail, it's like a cross between a spy satellite, x-ray vision, and telepathy. Your people can observe BIM's 3-D models and drawings on any device, watch the inner working of the project, and be of one mind on every step of the job. Everyone gets vital model information, leading to more timely, optimized decisions.
THE CHALLENGE
While it's not as complex as quantum physics, hosting BIM apps internally or through vendors, SaaS solutions can be daunting. Costly servers, workstations, lengthy deployments, and a lack of system interoperability and support overshadow the many benefits of BIM in the Cloud.
THE SOLUTION
As the world's leading Project Management solutions provider, we can defuse these challenges while speeding up and simplifying deployment while supporting your apps, integrations, and infrastructure. Accessing BIM software through the platform helps boost time-to-value efficiencies across your team network, regardless of location or device.
And with LoadSpring, BIM applications can render graphics a whopping 20 to 30% faster than other options. Our advanced Cloud Platform uses leading technologies and strategies to create a customized neutral solution for all players – Project Owner, EPC, CG, and Subcontractors. In keeping with our technology governance position, here are the most common questions and answers when transitioning BIM solutions to the Cloud:
WHY HOST MY BIM SOFTWARE IN THE CLOUD? Can't you just buy the vendor's SaaS offerings? Sorry, but only a handful of vendors offer complete SaaS solutions. Some have moved their simpler modules to SaaS, but apps with complex graphics and algorithms still have to live on client servers or workstations. Plus, SaaS-based applications can be risky regarding mandatory upgrades – leaving you with compromised reporting, integration, and performance. We allow you to decide when (and if!) it's time to implement or upgrade your BIM software versions. Sadly, the SaaS model doesn't give you that flexibility, which could lower your project's priority and raise the risk to scary levels.
 WHICH OF MY APPS SHOULD BE IN THE CLOUD? The LoadSpring Cloud Platform is application agnostic. Even wildly different, project-specific apps can be hosted on our Cloud without clashes. This is especially critical with today's technically challenging software. We're experienced with every BIM vendor, including AutoDesk, Bentley, Hexagon, InEight, Vico, RIB, and Synchro. Can other Cloud providers say that? Not so much.
WHAT ABOUT THOSE GRAPHICALLY-INTENSE BIM APPS? To deliver on our Service Level Agreement (SLA) performance guarantees, we work with you to identify and test exacting parameters before you deploy, ensuring a workable model for all parties. Our engineers "risk-adjust" the environment and model through obsessive internal reviews and finicky use-case testing.
CAN LOADSPRING ASSESS THE STATE OF MY APPLICATIONS? Assessments and version upgrades demand experts versed in mitigating risks and ensuring success. LoadSpring analyzes your project ecosystem and learns your integration needs inside and out. Then we model your application state in a test environment to validate your use cases and performance parameters. Only then will we transition you to a full production environment.
WILL ALL MY DATA BE SECURE AND BACKED UP? Oh, yes. LoadSpring uses a multi-phased approach that engages people, processes, technology, and authentication via our LoadSpring Cloud Platform to ensure drum-tight safety.  Since 1999, our security systems have never been breached. Your data is fully recoverable even in the event of multiple power outages in our network of global Data Centers.
HOW DOES LOADSPRING MANAGE MY INTEGRATIONS? When assessing your current state of apps, it's essential to review integration needs and automated reporting. Your standard should require flexible integration with SaaS, On-Premise, and other Cloud offerings via Web services, APIs, and direct data calls. We simplify your reporting cycles and data sharing by cleverly boosting interoperability between all your apps.
 WE FEEL YOUR PAIN – AND EASE IT
Transitioning complex BIM software to the cloud can be a nightmare or a piece of cake. Luckily for you, we're the industry experts in hosting, supporting, and integrating all your Project Management apps, including BIM, Estimating, Business Intelligence, Scheduling, etc. It's our mission to build and support your perfect project management cloud.
Don't let the complexities of BIM applications in the cloud stand in the way of project success. Connect with LoadSpring the minute you're done reading.
____________________________________________________________________________
Getting Apps to Play Nicely
Solution Mapping Makes it Possible
Remember recess back in grade school? Everyone loved playing, but it only took one or two scuffles among the kids to ruin the whole thing. Teachers learned early to keep troublemakers apart, and all was good in the schoolyard.
Now the same holds for Project Management software in the cloud. Even the smallest incompatibilities between applications and your project suffer.
Fortunately, LoadSpring can prevent or correct this common problem using the Solution Mapping process we've been perfecting since 1999. It involves creating a customized "map" of best-of-breed Project Management applications using these key ingredients:
Input from you on project processes and goals
Our strategic software selection process
LoadSpring's 18+ years of expertise
Ongoing support to keep your apps and integrations on track
HOW IT WORKS
We help Project Management teams and executives succeed by harnessing a complete set of resources that let them work smarter and make more timely decisions. We start by making recommendations from these software categories:
Estimating
Project Management
CAD/BIM
Cost/Document Management
ERP
Geospatial
Business Intelligence (BI)
PLAY NICE  
We start our Solution Mapping process by separating your software into the categories above. Because we have vast experience in hosting and supporting over 200 Project Management apps and integrations, we know how to configure a custom mix of software fit for your enterprise. By doing this as a preventive measure (or to break up existing skirmishes), it's only natural that you'll get better project results.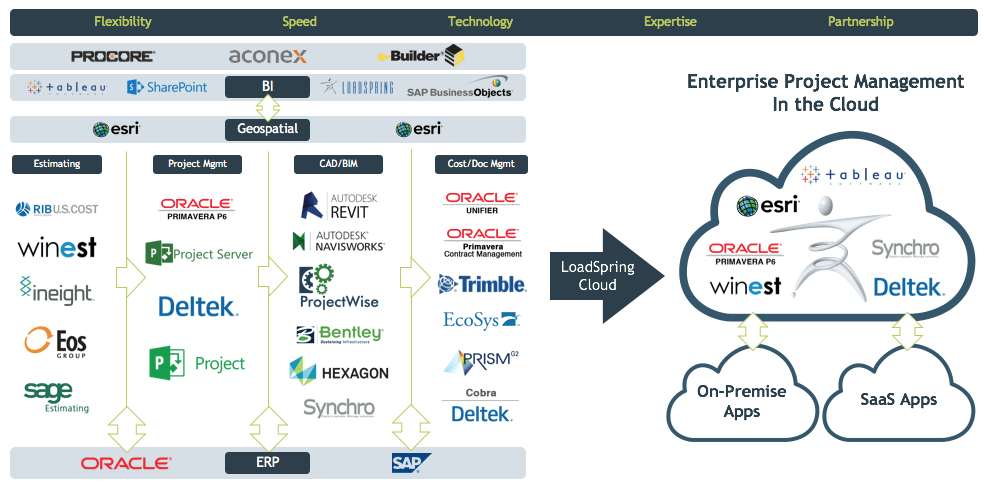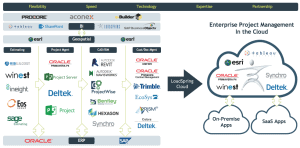 Image: Solution Map with sample applications.
What makes our process so successful isn't just the mapping itself. It's all the value-added benefits that help complete the picture. For example:
LoadSpring is the only company that truly understands and creates custom Cloud Project Management processes that enhance project performance.
LoadSpring hosts ALL your applications them safe and accessible in the Cloud.
Our LoadSpring Cloud Platform provides users full access to your software suite and educates them along the way. It's all done through LoadSpring Academy with free preloaded and customizable videos and quizzes. With it, your users can train on new apps, increase adoption rates and prevent the dreaded shelfware syndrome.
Our legendary support and integration services help you get the most out of ALL your software, resolving issues fast and accelerating information flow for greater value. We support all your applications, integrations, and infrastructure 24/7/365.
DOWN WITH CONFLICTS, UP WITH PRODUCTIVITY
Our brainy experts work with you to design the ideal Solution Map. We discuss your goals and determine the exact combination of tools needed to add value and build your perfect project management cloud.
A simple email or phone call can set our Solution Mapping process in motion. Contact us at information@loadspring.com or call +1(978)685-9715
____________________________________________________________________________
LoadSpring Cloud Platform 8.0.4
Administrators, This One's For You
You've heard all the success stories. You know – the ones about our customers' project managers, execs, and field teams becoming better connected, more informed and making better project decisions – all thanks to LoadSpring and our world-class platform. But what about your unsung heroes in administration? These behind-the-scenes folks are committed to keeping your Project Management apps, permissions, updates, and licenses running smoothly around the clock.
Do them a favor and check out our newest platform, version 8.0.4.
This new and improved platform launched various administrative enhancements and other tools to simplify the cloud experience and boost productivity.
ADMINISTRATORS REJOICE
LoadSpring now offers more power to manage key Projects and Programs worldwide with exclusive features like:
"USERS SOON TO EXPIRE" REPORT

Alerts are automatically sent to admins, minimizing the chance of license lapses.

USER MANAGEMENT

Email notifications are sent to users any time new applications have been provisioned.

ENHANCED REPORTING

License Categories are now enabled, allowing you to track licenses against current applications.
The performance of our User Summary feature has also been upgraded

P6 LANGUAGE SELECTION

An improved Single Sign-On Handler for P6 Professional now enables a choice of languages for this app's latest releases.

EVEN STRONGER SUPPORT

Every Support Request email notification now includes a hyperlink to jump directly to your particular case.
When reviewing a Support Case, admins can navigate straight to the user.
Case highlights are available by right-clicking the appropriate Support Case in the grid.
NEW, IMPROVED, MORE POWERFUL
These value-added benefits help your entire organization stay at the top of its game:
CUSTOMER PROFILE REPORT

Provides a summary of your organization's footprint in the LoadSpring Platform

IMPROVED S-CURVES

S-Curves created within LoadSpringInsight can now be viewed in terms of Cost or Hours, making your data more valuable in making timely, informed decisions.

TIGHTER SECURITY

We've made it harder for the bad guys to reset passwords on disabled accounts.
Answers to secret security questions are masked by default and now require unique responses of longer than three characters for each question.
BUGS? WHAT BUGS?
Like any good upgrade, our Cloud Platform 8.0.4 includes thoughtful fixes like these:
Corrected an issue with time zone offset in the User Summary Report
Rectified an anomaly with hyperlinks in email notifications for Gmail Business Users
Resolved hyperlink save issue in Company News tool
Other minor improvements and bug fixes
GET THE STRAIGHT SCOOP
Ready to dive into the latest advantages of the LoadSpring Cloud Platform Version 8.0.4? Log onto our 30-minute recorded webinar on this very topic. Click to see the webinar recording.
Any comments or questions about our new 8.0.4 release? Connect with us at information@loadspring.com or call +1(978) 685-9715.
____________________________________________________________________________
New Customers Come of Age
Just as historians divide time into B.C. and A.D., our customers often describe their Project Management evolution in terms of B.L .and A.L. (Before LoadSpring and After LoadSpring). Once they've come into our age of Cloud enlightenment, 95% of them become repeat customers and vow never to return to the dark ages again.
Please welcome our newest Cloud advocates:
Barrick Gold Corporation
Bravura Information Technology
Chiyoda Corporation
EnergySolutions
Lend Lease Corporation
New Jersey Transit
New York American Water
OC 405 Partners
Learn more about the undeniable advantages of letting LoadSpring create your custom Cloud by calling +1(978)685-9715 or dropping by loadspring.com
 __________________________________________________________________________
More Geniuses Join Team LoadSpring
Check out our latest cadre of LoadSpring movers and shakers:
Ayodele Adugbesan – Database Administrator
Peter Berndt – Tier III Software Support Specialist
Chris Daharsh – Systems Administrator
Zack Dean – Tier III Software Support Specialist
Leo McNair – Support Specialist I
Kevin Mullaney – Tier III Software Support Specialist
Mike Porter – Database Administrator
Kevin Renaud – Systems Administrator
Asif Sharif – VP EMEA Strategy
Who'll be on this list in our next eNews? Maybe you? A talented, tech-savvy friend? Point your browser to loadspring.com/careers/ and see if there's a match.
 ___________________________________________________________________________ 
Catch Us if You Can
If you're near these venues, swing by and say hello to our Road Warriors.
Oct 23-26, 2017          Deltek Insight – Nashville, TN
Nov 16, 2017               Project Controls Expo – London, UK
June 24-27, 2018        AACEi Annual Meeting – San Diego, CA
July 8-12, 2018            ESRI User Conference – San Diego, CA
Questions? Clarifications? Idle Curiosity? Email us at information@loadspring.com.