Who Says CIOs Can't Be Trendy?
The Latest Trends in Cloud Computing Among IT Geniuses
Whether you call them Chief Information Officers (CIOs), Directors of Informatics (DOIs) or Chief Information Technology Officers (CITOs), these guys are obsessed with the Cloud. Sound like anyone you know?
Survey Says…
According to a just-released CSC Global CIO Survey, these tech maharishis have some very definite views on Cloud Computing. The trends uncovered in the survey tell you a lot about the direction the industry is going. Hint: It's not down.
The Trends
Not to be a spoiler, but the survey shows that CIOs worldwide are investing a lot more in Cloud technology than ever before.
Why? Because they know that the Cloud isn't just a nice-to-have IT tool, but a critical priority. Many are moving toward the elevated security inherent to the Cloud. Others talk about the positive effect it has on productivity and efficiency. Still others said it's the Cloud's impact on innovation and Big Ideas (See our handy chart for all the numbers)
DIY is Dead
Of course, nobody in the survey said that integrating the Cloud into on their own was easy. So it's no big shock that the majority of respondents say they're reaching out to tech partners like LoadSpring to make the process simpler, quicker and way less overwhelming.
LoadSpring acts as your trusted Sherpa, guiding the way to simpler solutions in deployment, access and data management. We even train all your users how to master the Cloud using our unique SpringBoard Cloud portal.
Pick a Cloud… Any Cloud
While some hosting companies try to shoehorn you into one Cloud solution over another, LoadSpring frees-up the whole process by offering three unique Cloud locations:
SpringBoard Cloud Essentials — All the application and secure data access you demand in project management hosting, with industry-leading support, backup and recovery assurance.
SpringBoard Private Cloud — Tailored to the way you do business, our Private Cloud option makes you the ruler of all data and software. You get more personalized cloud solutions, including ID management, integrations, and federated services. Your new users get seamless, secure access to your Private Cloud or company network—but only when you grant it.
SpringBoard Global Cloud — All your information is synchronized in real time. With performance-based location awareness and GlobalView reporting, it "knows" where your people are, then routes them to our closest and fastest Data Center.
For more information, call +1 978.685.9715 or visit www.loadspring.com.
---
When CIOs Talk Trends, People Listen
The Latest Trends in Cloud Computing Among IT Geniuses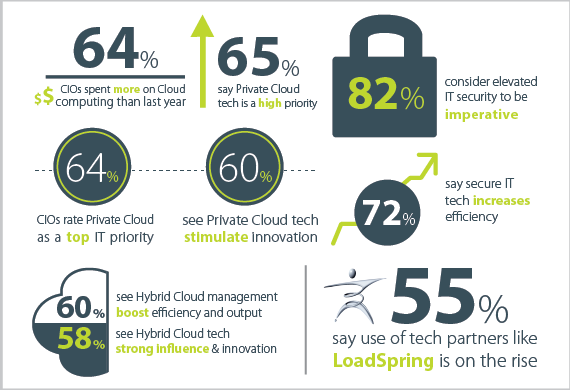 Moral of the story? Letting LoadSpring securely handle your Cloud implementation and maintenance gives you the power to turn mountains of data and software into nice, manageable molehills.
Ready to learn more about Cloud trends? Write us directly at information@loadspring.com.
---
Drones: Not Just for Battlefields Anymore
How AEC industries are Pulling Project Data Out of Thin Air
Surveillance drones. When the government launches one, we call it Big Brother. When savvy project managers send one up, it's a stroke of genius. Fact is, these Unmanned Aerial Vehicles (UAVs) are now being used in Architecture, Energy and Construction industries for some very smart reasons.
When building Godzilla-sized projects like power plants, bridges and refineries, it's critical that all your people know the job's parameters and progress. The alternative: chaos. Luckily, UAVs know no bounds in snatching that information from above.
Thing is, the huge amount of imagery and data collected by these airborne scouts has to be recorded, stored, processed and made accessible to your whole enterprise, from any place and at any time.
How Does LoadSpring Fit In?
Compared to other Cloud-based solutions companies, we're simply better equipped to work with the specialized apps and data that make the drone's mission truly usable. And our ability to securely house and distribute this kind of information has been proven every minute of every day since 1999.
So in the end, monitoring your worksite's progress for easy analysis (thank you, SpringBoard!) can make that outlandishly large project of yours more secure and reliable. And if that can prevent schedules and budgets from going down in flames, we're all for it.
Curious about making drone data more useable? Write us directly at information@loadspring.com.
---
Shocking LoadSpring Secrets Revealed!
Shhhhh. Four value Added Services that Actually Add Value
Okay, so we're lousy at keeping secrets. We spend countless hours stealthily formulating ways to refine your Cloud experience, then go and blurt it out to the world. Oh well, better check out these newer-than-new services and apps. You won't find them anywhere else:
1. Archiving
Most people would be shocked to know that 70% of all enterprise data in the Cloud is comprised of stale, old, inactive projects, just taking up space and slowing your processes to a snail's pace.
But with our exclusive archiving service, unneeded data is stored separately from your active projects, letting you access your latest projects with more speed and agility than ever.
It's the best way yet to manage those sedentary, outdated projects in your Primavera P6 database environments. Plus, it all happens automatically in the background, giving you a quantum improvement in speed and performance.
2. Advanced Performance Management
Suppose someone could review and expand the performance around your critical apps by continually improving your best practices. Now suppose they could do all that AND back it with a performance improvement guarantee. Anyone in their right mind would jump at the chance.
Well, this is your chance to get all of the above with our new Advanced Performance Management (APM) service.
When an organization like yours develops and tunes its EPPM strategies, it's easy to grow more dependent on program management software. That's why you've got to have a consistent approach to improve the whole process. What's more, you need to monitor performance targets around the clock. So even if your project data swells like crazy, it won't slow down productivity.
With APM, we address these essential needs in several cool ways:
PERFORMANCE MANAGER PROJECT LEAD – We assign you a devoted guide, who proactively focuses on performance increases between your operation and ours. Then, he or she shepherds away any technical problems that might sneak up and bite you in the rear.
DEDICATED TEAM OF PERFORMANCE SPECIALISTS – These pros evaluate and report monthly on all production database aspects that impact performance, such as…
Active project status
UDFs per project
Activities per project
Resources per project
Database size – current and projected
Database health
OVERALL PERFORMANCE SCORECARDS are provided with corrective action to your key business units on a monthly basis. The goal? To make sure that all your users follow an agreed-upon best practices model.
CONFERENCE CONNECTION – LoadSpring experts link up with you weekly or bi-weekly for half-hour calls that keep all performance related actions neatly coordinated.
3. Enterprise Customer Management – (ECM)
Sure, you assume your Cloud solutions company will respond whenever you need help. But to expect proactive support, well then you'd be talking crazy. Until now. Because LoadSpring is just crazy enough to create a new Enterprise Customer Management service that gives you a ton of support without you even having to think about it.
Support such as. . .
Dedicated pro-active attention to system performance
A review of your entire environment scope, including:
Infrastructure
Customer Process
Database KPIs (resources, tasks/activities, UDFs, archive)
Emergency response
Automated performance testing
Weekly reports and status meetings
Immediate, on the spot corrective action across all review areas
Advanced consulting/training needs assessments
Yep, it's that complete. Would you like fries with that?
4. Data loss/alteration protection
As perfect as our SpringBoard Cloud Portal is, we're constantly wracking our brains for ways to make it better. In this case, we made it possible for SpringBoard to be your gateway to our new partner, Audiit Business Solutions Corp.
Audiit (not a misspelling!) makes a wonderful thing called Audit Trail for Oracle Primavera EPPM. It continuously audits your project data and protects it from an accidental loss or alteration. Even when auditability isn't a regulatory requirement, Audit Trail serves as a strong business tool. It supports multiple processes and helps you reach those sometimes-elusive business goals.
Now that Audit Trail is easily accessible straight through SpringBoard, it's that much easier to integrate it into your Primavera EPPM system. And with today's sheer volume of data and users mushrooming exponentially, many say it's just too risky to live without. Amen to that.
Want to know more about these killer services? Of course you do. Write us directly at information@loadspring.com.
---
LoadSpring Overrun by Hordes of Really Smart People
Meet Our Awesome New Performers (No Autographs Please)
Brainy new employees are descending on LoadSpring every day, which is a pretty clear indication of how fast we're growing to improve your life in the Cloud. Join us in welcoming our newest Rock Stars:
Chaz Bowman – Software Administrator
Alan Cheng – Internal IT
Jeanine Cooper – Implementation Consultant
Ty Daniels – Software Support Specialist
LaKiesha Hall – Software Support Specialist
Becky Johnson – HR Coordinator
Will Laughlin – Software System Administrator
Hugh Smith – Accounting Specialist
Gregg Sokolovsky – Internal IT
David Waters – Director of Global Support
Do you have the right stuff to get your name here, too? Check out our career opportunities at www.loadspring.com/careers/.
---