Which Cloud is Best for Your EcoSys Deployment?

Top project-driven organizations worldwide are placing their trust in Hexagon's EcoSysTM software to maximize returns and margins across their entire project ecosystem. However, this ultra-powerful single integrated solution is leaving many organizations in need of a Cloud solutions provider to help them with deploying and maintaining this software in the Cloud.
Not all Cloud solution providers are created equal, and you may be asking yourself what are some important items you should look for? Take a deep breath, the Cloud Solutions Experts at LoadSpring are here to help!
It's important to consider all the questions key stakeholders will ask. Using this comparison chart, it's easy to see how LOADSPRING stacks up against the big player, Amazon Web Services (AWS) for deploying and maintaining EcoSys in the Cloud.
LOADSPRING vs. Amazon Web Services Comparison Chart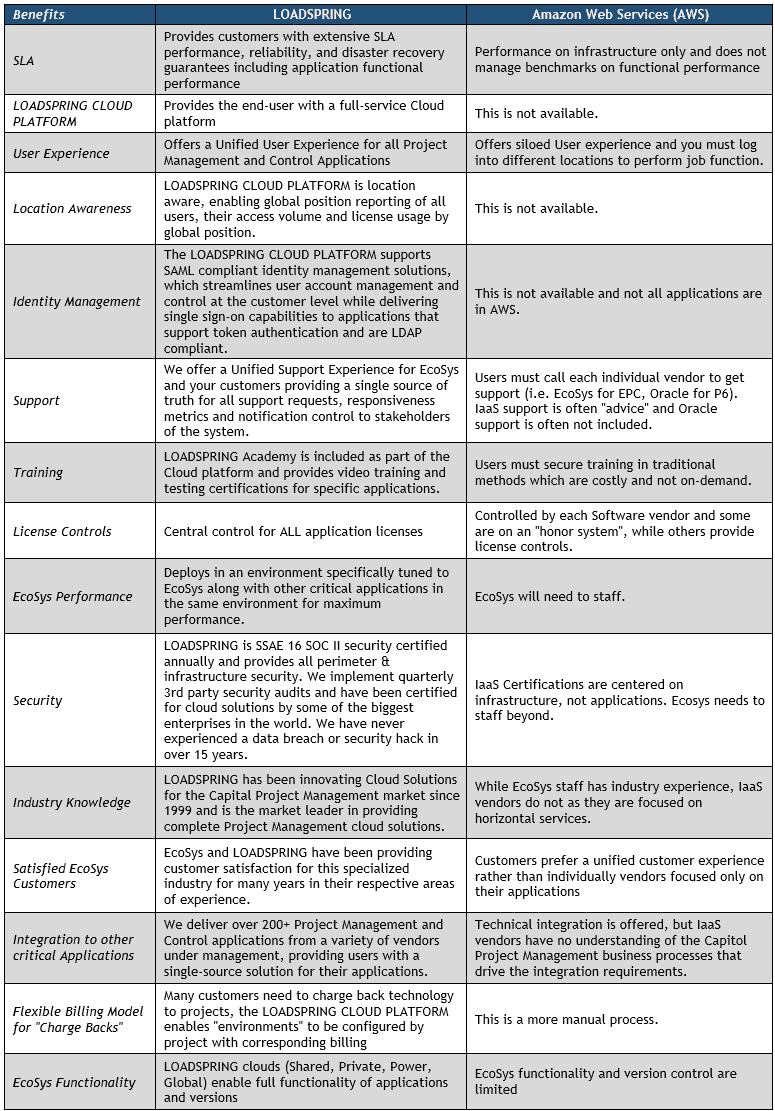 Have We Convinced You Yet?
When you choose to make your move to the Cloud, it is important to consider the various advantages and disadvantages of complex apps like EcoSys. As you can see, LOADSPRING has the complete cloud platform solution, which includes a team of experienced IT professionals.
Placing your trust in a Cloud solutions provider that's already deployed the world's largest EcoSys deployment could be one of the best and most important decisions you make. Read more in our blog, LoadSpring's Proven Expertise for Your EcoSys Deployments.
Have any burning questions you'd like to ask our Cloud Solutions Experts? Contact us today at information@loadspring.com and let us show you how fast, easy and efficient we can make the process for your EcoSys deployment.