LoadSpring Cloud Platform – In Depth
A deeper dive into your gateway to the Cloud.
This near-magical platform puts you in complete command of your
apps, projects, people and productivity. Have a look around.
Brochure, Please
Show Me the Demo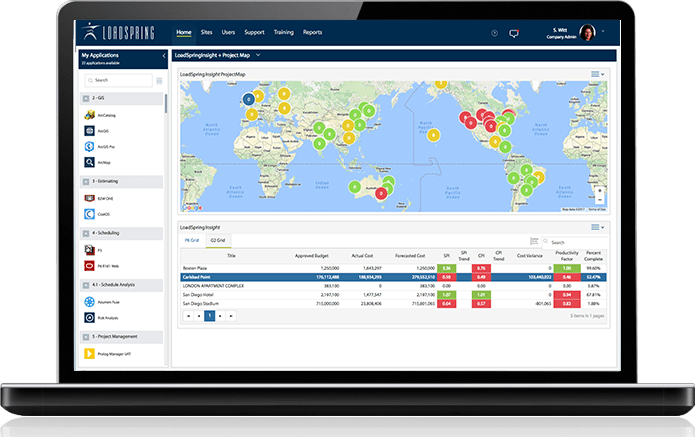 LoadSpring Cloud Platform – Advantage: You
It's no coincidence that ALL 20 of America's top 20 engineering, design and construction firms depend on the LoadSpring Cloud Platform. They get the advantages of the best software solutions, without the throbbing headaches. Never settle for less!
One Platform – Many Advantages
Effortless Software Access
Instant Team Connectivity
Advanced Business Intelligence
Stellar Support
Innovative Training
Painless Administration
Total Mobility
Impenetrable Security
Advantage #1
New Intelligence: LoadSpringInsight
For quick decision-making, you need The Big Picture – fast. Don't dig frantically through every last app, Cloud, and data point. Let LoadSpringInsight compile ALL your BI information and deliver nice, tidy KPIs at your feet.
Forget rifling through raw data. LoadSpringInsight automatically spins lovely grids, bar graphs, pie charts, S-curves and more from all your metrics
Need Cost Completions? Build vs. Budget? Cost or Schedule Performance? LoadSpringInsight is your friend
Evaluate performance endpoints, even from multiple projects and apps. You'll soon be making smarter business decisions, accelerated to about Mach II
Status Entry lets you capture project standings and performance points such as safety metrics, customer satisfaction data, and even status overviews at a narrative level
Customizable Project Intelligence just got simpler, more cost-efficient and downright easy
Effortless connections to P6, CM, EcoSys, Ares Prism, Deltek, Unifier and more
Advantage #2
Unending Support
Our stay-up-all-night Global Unified Support team is a legend – not only in our own minds, but throughout the industry. Building and maintaining your ultimate project and Business Intelligence Cloud is what we wake up for.
Our IT support pros aren't just software and infrastructure specialists, they're diehard Project Management geeks to the core
Our unified approach means we serve as your single global support team
Live problem resolution and automated SmartSupport, any time, every time
Your projects can't wait for help. Get an immediate answers 24/7/365
Every support case is monitored and cataloged so you won't slip through the cracks
Expertise gained from helping 100,000+ past users means we fix many problems before they even happen.
Don't take our word for it, click below for actual testimonials from actual clients.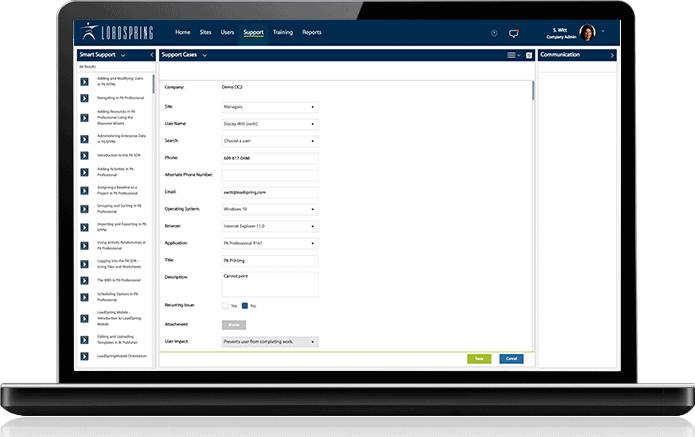 Advantage #3
Training: Strictly New School
LoadSpringAcademy is our free virtual university, built right into the LoadSpring Cloud Platform. It has 100+ preloaded tutorials and quizzes that simplify each user's software training while improving adoption rates and lowering training costs
Free 24/7 learning eases the software learning curve
Students learn through our Cloud-based videos and course modules
Faster adoption means new apps can be used almost immediately
Track each student's progress through quizzes and quiz reporting
You can even upload your own custom curriculum
Live, face-to-face sessions are available, including train-the-trainer
In-house self training is pricey, disruptive and hogs precious time. Leave it to LoadSpring.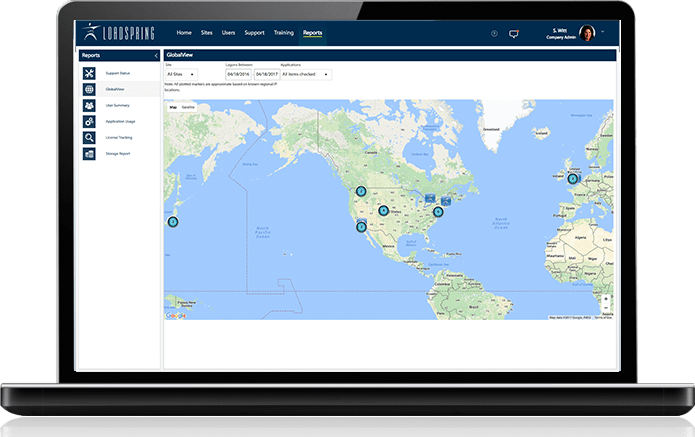 Advantage #4
Global View Reporting
Harness the power of real-time geosite mapping and location awareness to let administrators see who's using which apps (and where). Without it, it's all guesswork.
GlobalView improves planning, license tracking and, of course, costs
It's built into the LoadSpring Cloud Platform and monitors productivity by reporting actual app usage
License Management Reports help assign exactly the right number of software permissions
Prevents overpaying for unneeded licenses. The minute a project wraps, unnecessary licenses can be quickly reassigned
Advantage #5
Mobilize Those Teams
LoadSpringMobile is a streamlined version of the LoadSpring Cloud Platform – shrunken especially for portable devices. Users in the field can manage key projects without missing a beat.
Work on the fly with applications like Primavera P6 and Contract Management
Use P6 to view, edit, initiate activities, and gauge progress
Use CM to review, manage and add RFI's, submittals and issues
Streamlines approval processes of P6R8 and CM14
Advantage #6
User Registration - Fast
Self registration gives your overworked administrators a break and gets new projects up and running with little effort. Bulk upload + self registration are built right in.
Saves time and minimizes administrative hand-holding
Get your next project running today
Reduce administrative delays
Add or subtract users in bulk from spreadsheets, or one at a time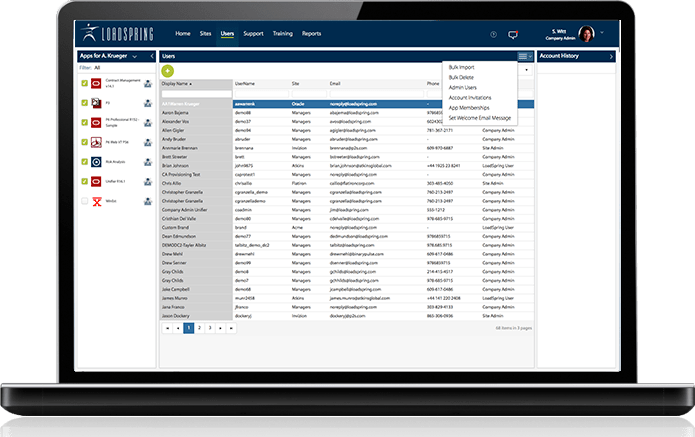 Advantage #7
Relentless Security
Yes, scum-sucking Cloud hackers are getting craftier every day. So our top priority is protecting your Project Management software, data, and reputation. Here's how:
It's in our DNA to provide rock-solid security no matter what
Bulletproof security and vault-safe data storage adhere to the strictest protocols
Powerful SSAE 16 SOC 2 Type II security shields your infrastructure and entire Cloud environment
We work with proven security sources like the NSA, Microsoft, NEISUG and Bugtraq, as well as top secret sources we'll take to our graves
Our certified compliant global Data Centers serve as impenetrable fortresses for your most sensitive data
You've Seen It, Now Try It
Get the LoadSpring Cloud Platform advantage. Contact us for a virtual or face-to-face demo. Hurry. Gurus are standing by.
Show Me
Contact Me