What Is a Security Vulnerability?

A security vulnerability is a weakness, flaw, or error found within a security system that a threat agent may leverage to compromise a secure network. When it comes to cloud security, the problem is threefold: the main weaknesses tend to be either threats, exploits, or vulnerabilities. Vulnerabilities often come in the form of software bugs, and unfortunately, hackers often utilize vulnerability scanners to detect bugs quickly and easily.
Here's the bigger problem: we are all too comfortable with the usual ideas about security: secure passwords, VSPs, two-step authentication, et cetera.
Vulnerability & Cloud Security
There are shared responsibilities with third-party vendors for security in the cloud. Because of this, companies need to understand the role of their IT departments and the security issues inherent to cloud computing.
Cloud security vulnerabilities often involve software bugs like the recent Apache Log4J software update. One company whose cloud was compromised was Equifax, which was forced to pay a $700 million settlement after failing to patch a known vulnerability, exposing 147 million users' data. The settlement was a combination of actions taken by the Consumer Financial Protection Bureau, the Federal Trade Commission, and all fifty states.
How can your company be proactive against these types of vulnerabilities, with spending on "cloud security forecast to record the highest growth at 33.8%, followed by data security, growing 21.9%" according to a recent press release from Gartner?
Which Cloud Works Best for You?
Depending on the needs of your organization and your network's current level of cloud maturity—entry-level, intermediate, or advanced—there are several different types of clouds to choose from: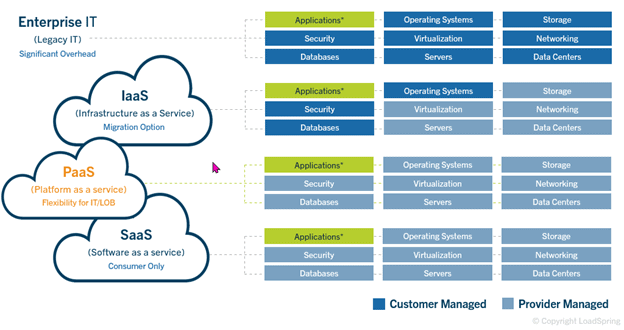 As you can see, customer-managed clouds require you to take on more responsibility than clouds sharing management with third-party providers, such as Platform-as-a-Service (PaaS) and Software-as-a-Service (SaaS). Because of the need for On-Premises or Infrastructure-as-a-Service (IaaS)-based customers to take on full responsibility for security, more companies are opting to invest in PaaS models that can incorporate the ease of use of SaaS products. Working with a managed-cloud services partner allows your IT team to shift their focus to on-site business objectives.
How LoadSpring Elevates Security in the Cloud
Regardless of which programs you choose, we offer more enhanced security so that your on-site IT team doesn't have to worry about regularly updating all your applications and software programs.
The four most common cloud vulnerabilities are identity and access management, misconfiguration, shared tenancies, and vulnerability to the supply chain. Fortunately for our customers, LoadSpring takes a proactive approach by using several layers of security:
Restricted outbound access to prevent payload downloads
User-restricted server access via LoadSpring Cloud Platform™
Servers are accessible only via personalized URLs, eliminating the possibility of IP scans
If you choose to work with LoadSpring, our customer support team installs regular software updates and patches in a timeframe that works for you. LoadSpring's secure login feature puts control back into your hands. Adopting an all-in-one cloud platform that integrates all your applications and project controls in one place ensures tighter security access—allowing for more peace of mind, as well.
Bad actors will look for any opportunity to gain access to your cloud-based system and customer data: in response, we implement ISO/IEC 27002:2013 standards. We are SOC 2 Type II certified, exceeding government cybersecurity protocols. Our cloud security measures are automated and run without unnecessary interruptions. One of our 'claims to fame' is our fifteen-minute response time, so you can rest assured knowing your LoadSpring Cloud Platform will be continually managed and monitored by 24/7 technical support.
A Personalized Cloud
What is your business process? LoadSpring cloud options are unmatched, so you get top performance and optimal configuration. LoadSpring Cloud Platform features optional custom cloud environments tailor-made to your specific business needs.
With LoadSpring Cloud Platform, we grant you access to a one-stop command control dashboard. Your personalized cloud gateway allows you to efficiently manage your team's apps, projects, and business analytics—all from anywhere in the world.
We're ready to help. Our cloud experts can answer your cloud security questions and provide a free cloud readiness assessment. Schedule your assessment today.
Your next step (simple, quick, and effective)
Let LoadSpring be your project cloud partner and have the confidence that your projects are expertly supported 24/7. Contact us at LoadSpring now and claim your free cloud readiness assessment valued at $2,500 today.
LoadSpring Cloud Platform™ hosts all the best project controls software that drives project success. Whether you're a PM Executive or a Project Manager, you deserve to get more and do more.
Get started today. Contact us here or call US +1 978 685 9715, or UK +44 800 088 5889.