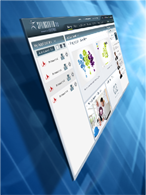 Why Just Manage the Cloud When You Can Rule it?
The SpringBoard Test Drive
Go ahead and kick the tires. Demo our ingenious SpringBoard Cloud Portal and see what all the brouhaha is about. (Hint, it's all about making the Cloud work your way.) Click here to watch the demo.
Download the full SpringBoard story. Click here.
What the heck is SpringBoard?
Here goes. Springboard is an incredible Cloud-enabling technology that delivers custom Program Controls software solutions. It adds functionality that lets you dominate the Cloud and create your own Project Management suite—from scheduling and estimating to BIM and mobile.
This wildly powerful Cloud portal is totally intuitive, allowing everyone on your team to access applications, data, reports and dashboards—securely from anywhere in the world. All without glitches, back-end issues or muttering obscenities under your breath.
SpringBoard is a huge part of what makes us a leader in Program Management software solutions. It helps us lower your cost of ownership and allow deployment in days, not months. Imagine what that could mean to your business. Awesome, isn't it?
The power is yours—All yours
Our SpringBoard Cloud Portal lets you seize control of the most potent Program Management suite ever—without the usual complexity or frustration. Here's a sample of what you get:
SpringBoardInsight lets you access and view critical data simultaneously from multiple applications.
PM Social is your private, assignment-based messaging network built right into SpringBoard. It helps keep team members in touch and in the know.
GlobalView Reporting uses real-time geosite mapping to let you see which team members are logged in, no matter their location. A simple click on our GlobalView map creates an instant report of who's using what (and where) for better planning and license tracking.
24/7/365 Support includes live problem resolution and automated SmartSupport, which provides instant answers, directly within your SpringBoard control panel.
Burden-free administration allows you to add users in bulk and take advantage of self-registration and single sign-ons for your whole team.
Training access through LoadSpring Academy, featuring on-demand video-based learning modules, tracking and quiz functions.
Single sign-on makes it easy to launch all of your Oracle Primavera applications.