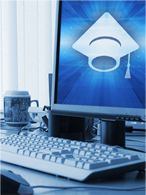 Imagine a Learning Curve That's Neither Sharp Nor Painful
Just like trudging through the instructions for a new DVR, learning can sometimes be a major drag. Luckily, LoadSpring feels your pain when it comes to educating people on the latest Project Management hosting software and Cloud Access.
Our training options use a kinder, gentler approach, written and taught by real, live Project Management cloud solutions experts. Your people can learn at their own pace, whether it's virtually, on video or in person at your offices.
Much more cost-effective than traditional training, our process is exacting enough to bring thousands of users the precise project management hosting content they need, yet flexible enough to fit their personal learning styles and schedules.
That's exactly the kind of training that hundreds of enterprise-level companies are getting—through LoadSpring's Cloud-based "campus" and in face-to-face live sessions. Just check out the options:
Option 1 – Learn at Our "Place"
By "our place" we mean to the hallowed halls of LoadSpring Academy.
Okay, so the Academy isn't an actual place, with an actual campus or actual ivy-covered walls. But it may as well be, since this online project management hosting institution is responsible for training more system administrators and end users than you can imagine.
From the comfort of your office, home or overpriced coffeehouse, you can become enlightened through the Academy's ample catalog of 5 to11minute learning videos. These can be grouped any way you like, to suit a wide range of users.
Over 100 modules are at your beck and call via desktop or laptop computer. Modules cover product functionalities like the Contract Management Control Center, navigating and editing reports in BI Publisher, and project scheduling in P6. They also help users get started with new software by establishing basics like how to work within projects, activities and enterprise program structures.
Better still, customers using our SpringBoard Cloud Portal can access the Academy any time, at no charge. Administrators can log on and get the benefits of student tracking, quizzes and quiz reporting. You can even put up your own videos that teams can study anywhere in the world.
Option 2 – Learn at YOUR Place
Contrary to popular belief, LoadSpring people do not spend every waking hour at their keyboards. Some are even allowed to wander the Earth and spread the LoadSpring word through face-to-face training sessions.
We can actually come to your offices, interface with your people and teach your preferred curriculum. Our customized one-on-one workshops and "train the trainer" sessions take place on your turf, at the student's pace and on real-world projects.
We customize the material to what's most successful for your users, while maximizing ROI on the time they spend away from their "day jobs."
P.S. Let's Not Forget About Remote Mentoring
Remote what?? Mentoring—as in wise old sages who teach the new guard the inside secrets of the ages. (Yoda and Luke come to mind.)
LoadSpring's Remote Mentoring is one of the most highly concentrated and targeted forms of training. It helps ensure that your P6 hosting deployment, for example, continues to be aligned with the strategic business requirements of your company—now and into the future.
Remote Mentoring all happens through the LoadSpring Cloud and SpringBoard, so once again we can live up to our promise of Fast, Easy, Mobile—Now.